100 YEARS OF ROMAN TRADITION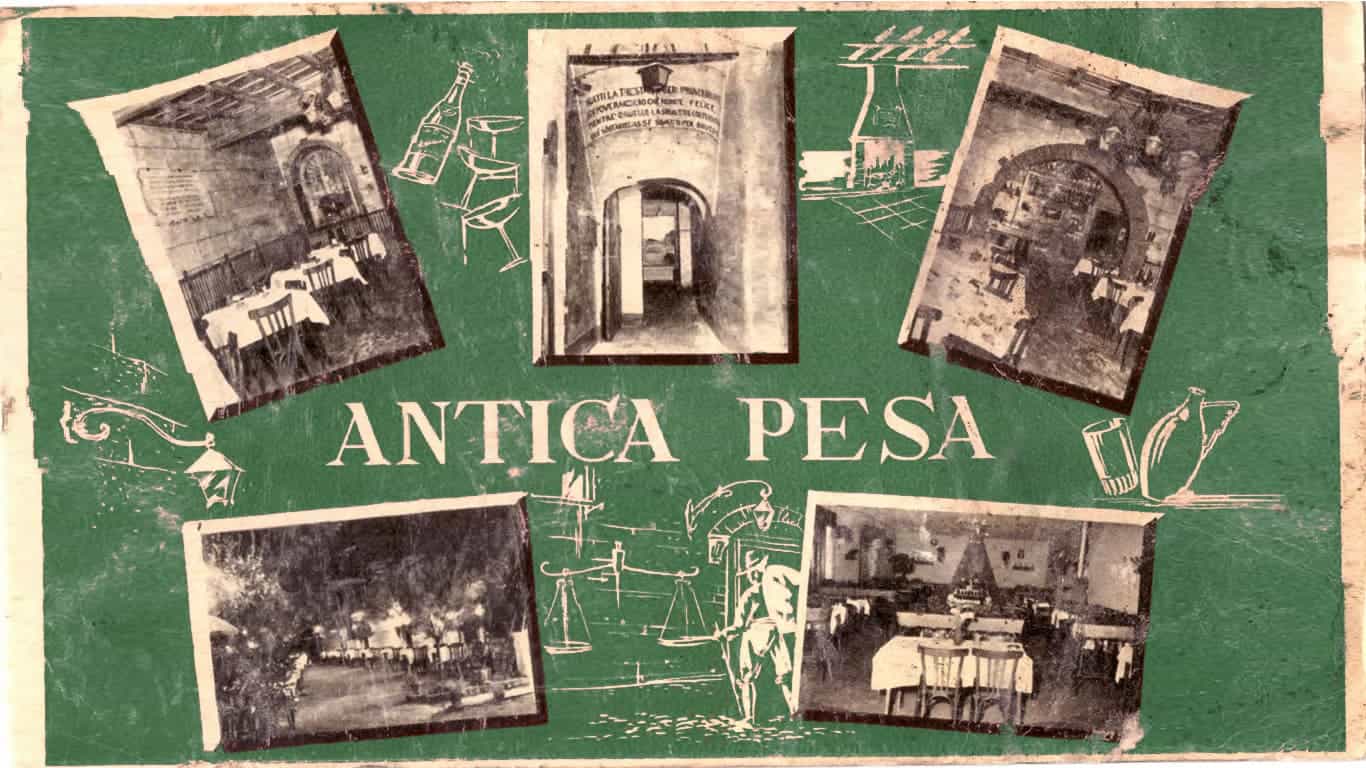 Antica Pesa, owned by four generations of the Panella family, showcases over a century of Roman tradition with their deep roots in Italian culinary history.
The story of Antica Pesa begins in 17th century Rome.On via Garibaldi, a street in Trastevere's Roman neighborhood, stood a customs post to collect taxes on wheat. Here, villagers of Vatican City used weights and scales to portion food brought in from local farmers. After noticing their less fortunate neighbors lacked food, the customs officers established a tavern to provide sustenance to their fellow countrymen, and the history of Antica Pesa was born.
In 1922, the first of four generations of the Panella family turned this former customs post into an authentic Roman trattoria, which kept the tradition of generously supporting their fellow countrymen by transforming humble ingredients from local farmers into deliciously nourishing dishes. As they continued to evolve into an establishment recognized city-wide, they chose a name to pay homage to their humble beginnings: Antica Pesa meaning Antique Scales.
In 2012, the Panella family opened their first international outpost to carry on their legacy while sharing the philosophy that began within the walls of their ancestors' small Roman trattoria. For the Panella brothers, Williamsburg is a fitting homage to their Roman home because, like Trastevere, this New York neighborhood located on the other side of a river has forged its character through transformation. Antica Pesa was one of the initial openings during Brooklyn's rebirth & brought an ambitious contemporary twist on traditional Roman dishes.
Today, after a decade in New York and a century in Rome, Antica Pesa continues to pay homage to their homeland by reworking traditional recipes with a nod to modern trends. Its continued evolution, emphasizing sustainability with a commitment to conserve the environment for future generations, has become synonymous as a pillar for devotees of authentic Roman cuisine who view the restaurants as an extension of their own homes. Although much has changed since 1922, Antica Pesa continues carrying on its legacy by showcasing the bounty of
local ingredients with innovation; while sharing an authentic experience of Roman culture: where meals filled with rich traditions are an essential part of the rhythm of daily life
ANTICA PESA immerses you in the traditions of R(h)OME